Since the beginning of our civilization, Indian culture has found a way to use silk in many ways. One particular use is in the form of clothing and to be more specific, the saree. Silk sarees are a way of life for women in Southern states and other silk-producing hotspots in the country.
In other regions, it is considered an honour to even own a pure silk saree and this is why it is worn for only auspicious occasions such as weddings and religious festivals.
Most Popular Types of Silk Sarees with images
Depending on the area, silk sarees are made all over the country with each state having a particular type that is specially made there.
Banarasi Silk Saree
Originating in Varanasi, the Banarasi saree is the most well-renowned silk saree in India and is even world famous. It is made from the finest strands of silk and makes use of Zari work using gold or silver threads to form patterns and images.
if you like these sarees then you should buy sarees online or from wholesale and if you looking for offline then you should buy from surat sarees wholesalers at a low price.
Paithani Silk Saree
They are well known throughout the country and are a local Maharashtrian saree. Designer weaving with pallus that are made from vibrant colors is the deciding point of this category of sarees.
Art Silk Saree Art silk also known as artificial silk and has many properties as real silk but is actually a synthetic fiber that is cost-efficient and can have everyone fooled.
Kanjiveeram Silk Saree
Kanchipuram area in Tamil Nadu is listed as a geographical indication by the Indian Government as it is a historical site that is known for the handmaking skills required to make these sarees.
Assam Silk Saree
Assam is famous for its Muga silk which is very durable, a feature that is very in demand in the clothing industry. The silk is produced and used in the same place for saree making and is sold in the area to locals and tourists.
if you want to buy sarees for business then you can buy wholesale sarees for business at low price online.
Chanderi Silk Saree
Madhya Pradesh is home to this valuable saree that is known to be decorated with Zari, brocade, or embroidery, these features make every Chanderi saree look like an exquisite piece of clothing any woman would love to wear it. Patterns and pictures depicted on the saree range from peacocks, lotus, floral, ethnic coin, and many more.
Baluchari Silk Saree
Tussar silk is the humble starting point for these majestic garments. Made in West Bengal, they have mythological scenery graced all over the body and borders of the saree and have been around since the British occupancy of India.
Bomkai Silk Saree
Bomkai sarees keep to tradition with borders that bear ethnic patterns. Fish images with a bright array of colors is a common sight on all sarees. They originate in Orissa and are also called Sonepuri sarees. Check some awesome matching Kurtis neck design catalog that would be suitable with these types of sarees.
Kota Silk Saree
For this class of sarees, a preparation of cotton and silk fibers is used to give them desirable properties of both kinds of materials. They are both attractive and cool enough to be worn in all seasons. They are carefully made and finished off with care.
Mysore Silk Saree
The number one silk fabric is for special occasions or festivities throughout the year. It is comfortable and noted for its soft and smooth nature, this is the staple garment worn by Karnataka women.
Korial Silk Saree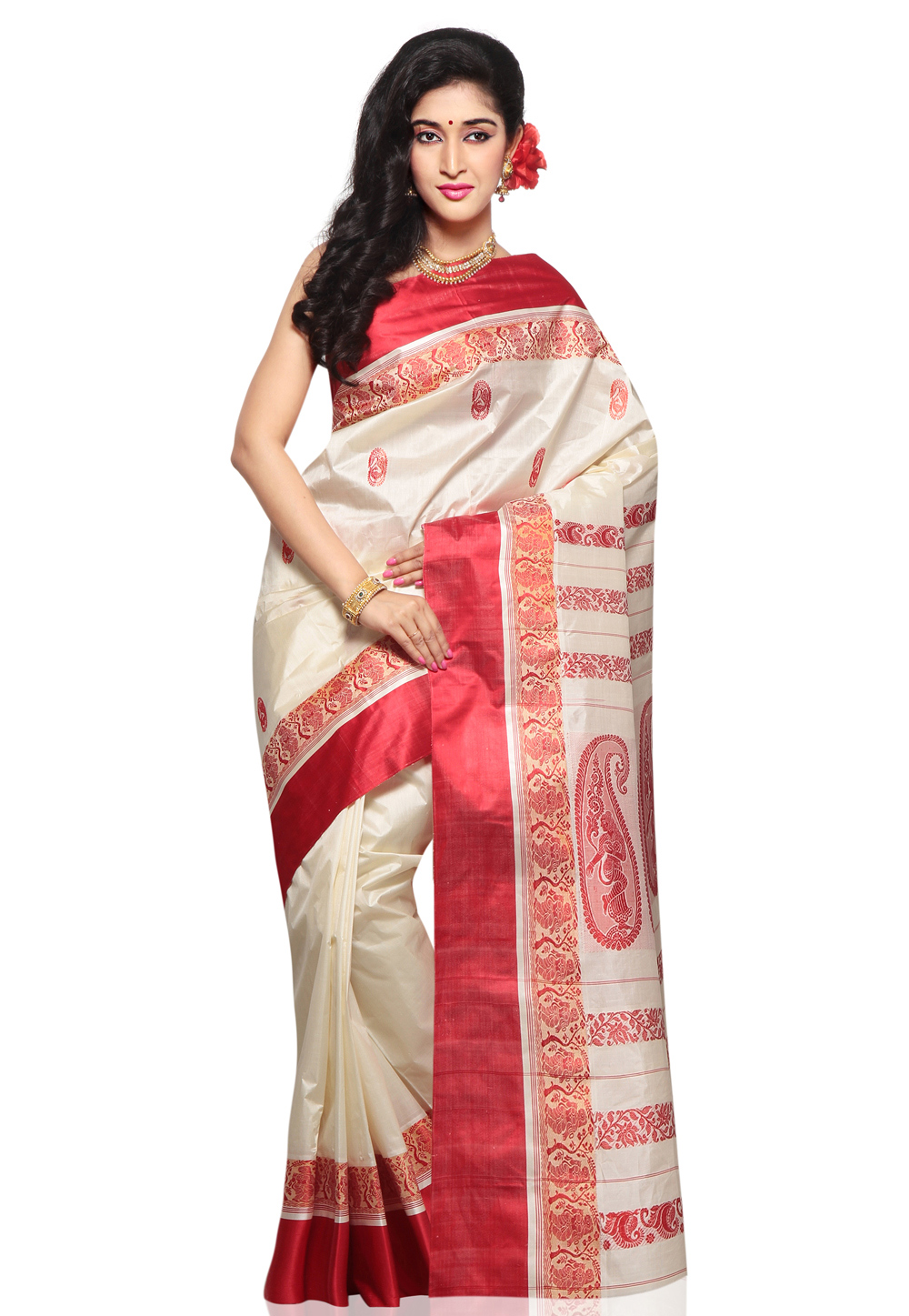 Ever seen those white sarees that have a small amount of red or orange color added? These are the Korial sarees that come from Bengal and are a customary garment which is worn by all women in the area, especially on their wedding day.
Patola Silk Saree
From the Patan area in Gujarat, the Patola silk saree. It is made using a double ikat weave and was an item only wealthy families could own. The main inspiration behind these works of art is animals and nature.
Konrad Silk Saree
Well known in the South Indian states, the Konrad saree originating from Tamil Nadu has wide borders that range up to a maximum of 14cm. Natural motifs including parrots, peacock, elephants, etc find themselves on the body of these fabrics.
Raw Silk Saree
Made using silk that is not fully refined, Raw silk sarees are different in that they have a textured appearance but a soft and glossy feel. Mulberry silk forms the first product of these amazing sarees.
Sambalpuri Silk Saree
Handwoven from Odisha, the Sambalpuri sarees have their place in Indian history and have a unique weaving process that is used to create tapestry patterns and images within the fabric itself. Check out the awesome Mehndi Designs Images on our website.
Tanchoi Silk Saree
Tanchoi actually refers to the weaving process by which these sarees are created, the fabric feels more like a satin feel than a silk one. Decorations are related to flora and fauna that are found in the surrounding environment, birds, trees, and animals. You can also find awesome blouse design for silk sarees from related website.
Uppada Silk Saree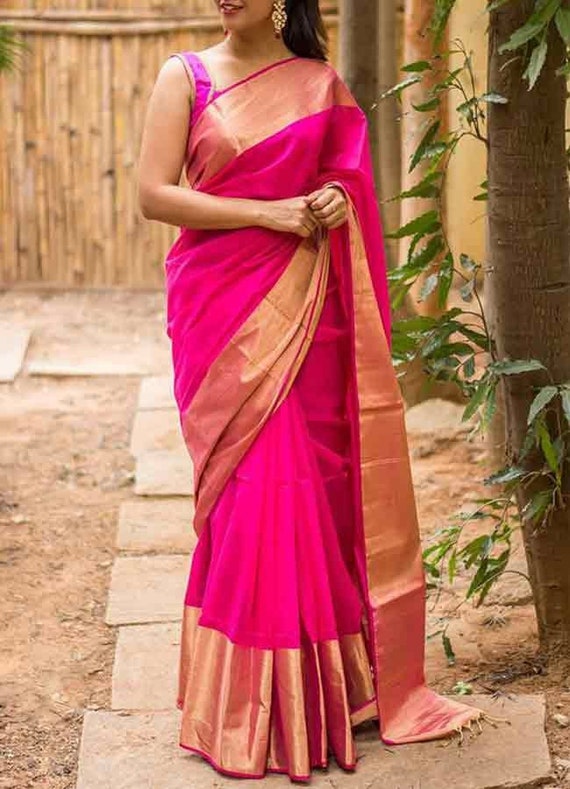 An age-old tradition is what is used to make the Uppada silk saree of Madhya Pradesh. They take a long time to weave to perfection, the geometric shapes are combined with floral designs and leaf patterns that grace any area of the soft fabric. The heavy usage of Zari work contributes to the very high prices of these, one of a kind sarees which are valuable to own.
Gadwal Silk Saree
Instead of having a full silk composition, here the body is made from cotton and only the borders are made from silk materials making it literally a rare art to own one. The makers of this saree have a skill of making odd colors gel well together so don't be shocked by the color combinations that are employed
Pochampally Silk Saree
Andhra Pradesh is the homeland of these distinguished sarees that are known for double ikat weaving method of production which requires both cotton and silk to give a premium and strong end product.
Organza Silk Saree
Organza is a synthetic polymer that is formed by adding nylon or even polyester to a silk blend. The results are a soft and silky material that mimics every quality of silk fabric. It is often cheaper than pure silk and has eased the excessive demand for silk by providing a suitable substitute.
if you want sarees on COD then you can also buy wholesale sarees online cash on delivery at a discounted price.